2014 SAIL 2015
2 sailing voyages across the Atlantic
2 long sailing trips on the Atlantic Ocean were the reason for my fascination with WATER, ocean and discovery and the start of a thorough research. Project's aim is an exhibition of art photography which will travel the world and a book "SAIl- around the world in 80 pages"
We departed in 2014 from Capetown (SA), followed the coast north for a while along the shores of Namibia, then crossing the Atlantic Ocean to St. Helena (tiny island where Napoleon was kept for the last years of his life) then sailed on to Brazil.
The second trip (2015) took us from Sint Maarten in the Caribbean via de Azores back to Europe.
2014SAIL2015
2 booklets and a 'Memory Game' form together the promotion pack for this project. They are handmade, handbound and packed together in a case with a jacket made from an original nautical chart as used during our voyage with sailing yacht 'Gemini'.
The first booklet 'South Atlantic Ocean' gives more information about countries and places we visited from Simonstown in South Africa to Fortaleza in Brazil.
The second booklet 'North Atlantic Ocean", covers Sint Maarten in the Caribbean to the Netherlands and has also more information about our living ocean as an environment.
The 'Memory Game' will test your memory and knowledge about some of the topics from the project.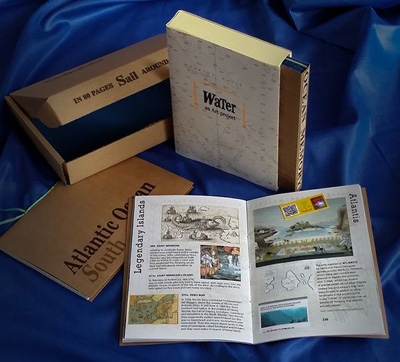 A special gift for a special time ..
Set of 5 Postcards, related to Sailing, Discovery and Art, in a personalised Christmas Packaging (see picture) and send to your desired address for less than US$ 10.00. A compliment slip will be included with a text written by you.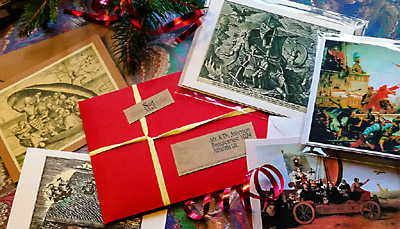 SAIL -around the World in 80 Pages
'SAIL -around the world in 80 pages' is a book published to accompany the exhibition on its worldwide journey.
It is designed in an accordion fold, so actually there are 80 front pages with information about the discovery of our oceans and 80 reverse pages with maps, drawings, etc. It measures 15×20 cm. and is handbound in a piece of sail from sailing yacht 'Gemini'.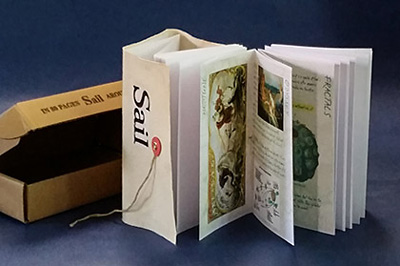 Numbers in the book link directly to a website with much more information (www.water-artproject.com/resources.html).
Contact
Turkeye 6, 4508PB WATERLANDKERKJE
the Netherlands

THURSDAY July 16th.
We are coming closer to Holland and to the end of this second voyage which has taken us all the way from the Caribbean across the North Atlantic.
It is now time to gather all the collected material, photos and texts and finish the exhibition and book. As you know, to finance the exhibition prints, frames and transport, I designed and made a book which will also be the accompanying publication for the traveling exhibition.
The subtitle is "SAIL – In Eighty Pages around the World" and it will show you well known and new artworks and connections relating to the Discovery of Our Oceans.
All the subjects in the book link to more information on the website. It is specially hand-bound in a piece of sail from the yacht -sy-GEMINI- on which we traveled.
So by buying the book, you are sponsoring the exhibition and it only costs € 30,00 plus the postage to where ever you are.
more info on the project and book here: sail.robertschilder.com
---
July 15th. 2015
# Enough is enough, time for some positive news!
Of course you are well aware of the massive overfishing or plundering which is causing a depletion of certain fishing grounds and even the extinction of certain species of fish.
Neither do I have to tell you about the acidification of the North Atlantic, with a devastating effect on coral reefs.
Put on top of this all the global warming and you will agree that the future of Our Oceans looks pretty bleak.
So I think it is better to mention below all the positive and creative plans, which may give a different direction to what the foreseeable future will bring!
# Aquaponics (positive news 1/7)
Aquaponics is the integration of recirculating aquaculture and hydroponics in one production system. In an aquaponic unit, water from the fish tank cycles through filters, plant grow beds and then back to the fish. In the filters, the fish wastes is removed from the water, first using a mechanical filter that removes the solid waste and then through a biofilter that processes the dissolved wastes. The biofilter provides a location for bacteria to convert ammonia, which is toxic for fish, into nitrate, a more accessible nutrient for plants. This process is called nitrification. As the water (containing nitrate and other nutrients) travels through plant grow beds the plants uptake these nutrients, and finally the water returns to the fish tank purified. This process allows the fish, plants, and bacteria to thrive symbiotically and to work together to create a healthy growing environment for each other, provided that the system is properly balanced.
©: FOOD AND AGRICULTURE ORGANIZATION OF THE UNITED NATIONS Rome, 2014
ISBN 978-92-5-108532-5 (print) E-ISBN 978-92-5-108533-2 (PDF)
50 Ways to save the Ocean (positive news 2/7)
Our Oceans remain a largely uncharted and unexplored frontier wilderness, filled with unique habitats and innumerable ´alien´ species that scientists are only now beginning to identify. Our Oceans drive both climate and weather and are the source of over half the oxygen on earth, an essential ingredient for all life forms. It provides us with recreation, transportation, protein, energy, security, medicine and a sense of awe and wonder.
"50 ways to save the Ocean" is a book originally designed as a teachers aid to help educate children´s awareness, but I think is a great resource for anyone interested in understanding and expanding one´s engagement with our Oceans.
©: David Helvarg author and founder of the Blue Frontier Campain www.bluefront.org
info@bluefront.org
CleanUp the Ocean – Boyan Slat (positive news 3/7)
Boyan Slat (1994) combines technology and entrepreneur-ism to tackle global issues of sustainability. He currently serves as the founder and CEO of The Ocean Cleanup.
After diving in Greece aged 16, frustrated by coming across more plastic bags than fish, he wondered; why can't we clean this up? While still being on secondary school, he then decided to dedicate half a year of research to understand the plastic pollution and the challenges associated with cleaning it up. This ultimately led to the passive cleanup concept, which he presented in 2012.
Working to prove the feasibility of his concept, Boyan Slat has given lead to a team of over 100 people, and Boyan Slat then quit his Aerospace Engineering study to completely focus his efforts on proving the feasibility of The Ocean Cleanup. In June 2014, having worked with an international team of 100 scientists and engineers for a year, the concept turned out to be 'likely technically feasible and financially viable'. A subsequent crowd funding campaign then raised close to $2.2m, now enabling the organization to start the pilot phase.
In 2012, The Ocean Cleanup has been awarded Best Technical Design at the Delft University of Technology. Boyan Slat has been recognized as one of the 20 Most Promising Young Entrepreneurs Worldwide (Intel EYE50), and is a laureate of the 2014 United Nations Champions for the Earth award.
Visit TheOceanCleanup.com
©: 2014 www.boyanslat.com
Fish oil made from GM plant to be saviour of the oceans. (positive news 4/7)
Fish oil has been grown successfully on a British farm in a scientific breakthrough that could reduce the plundering of the oceans
A field trial in Hertfordshire has demonstrated that plants can be genetically modified to reproduce the nutrients found in oily fish that protect against heart disease and help infant brain development.
Scientists genetically modified camelina, an oilseed plant known as "false flax" to produce seeds containing the omega-3 fatty acids present in salmon, mackerel and herring.
©: Ben Webster (environment editor) in The Times 8/7/2015
Noordzee boerderij – North Sea Farm (positive news 5/7)
A new way of cooking
Sushi, soups and salades, straight from the North Sea to the kitchen table. That will be the future in a couple of years, according to the Stichting Noordzeeboerderij (North Sea Farm Foundation). They planted edible seaweed near the coast of the island of Texel (north of the Netherlands) and harvested the first crop last week of June. The seaweed grows on a large frame, floating one meter below the sea´s surface.
This is only the start, because they are allowed a ´'pastry´ of a square kilometre with the possibility of growing shelfish at the same time.
Seaweed is more than just food, it is a part of for instance toothpaste, chocolatemilk and cosmetics. Besides that, it forms a safehaven for small fish and it is environment friendly. No need for land, fertilizer or precious sweet water.
©: the test is an intiative of Schuttelaar & Partners Consultancy (NL)
in dutch: www.noordzeeboerderij.nl
GOOGLE Street View (positive news 6/7)
Google´s new collection of Street View Imagery assembles underwater photos from over 40 locations. Google put the new images online to mark WORLD OCEANS DAY (www.worldoceansday.org) on 8 June, hoping they will inspire people to learn more about this precious natural resource". The images help the conservation of underwater environments because each one is recorded using GPS, allowing researchers to measure how conditions change over time. Click the link below to go to Google´s Lat-Long blog, where you´ll find more information on the company´s projects to help preserve the oceans. and shortcuts to the best images. bit.ly/oceans373
©: text taken from WEBUSER issue 373
picture: walk the coastline of Larsen Bay, Samoa, home to some of the most prestine coral reefs in the Pacific with ©: Google Street View
Wave & Tidal Stream Energy (positive news 7/7)
Wave & Tidal Stream Energy has the potential to supply 20 per cent of UK electricity avoiding 30 million tonnes of CO2 emissions each year.
Atlantis Resources' MeyGen Project in Scotland
With tidal stream technology turbines sit under the water and literally generate electricity as the tides move through the turbine.
©: 30/6/2015 www.raconteur.net
June 27th 2015 0600 hrs.
On Our Way
Appoaching the Isles of Scilly on our way to Falmouth (both UK)
©: Robert Schilder
The Piri Re´is Map (Columbus & Atlantis claim)
The Piri Re'is map was found in 1929 in the Imperial Palace in Constantinople. It is painted on parchment and dated 919 A.H. (in the Islamic calendar), which corresponds to 1513 AD. It is signed by an admiral of the Turkish Navy named Piri Ibn Haji Memmed, also known as Piri Re'is. According to Piri Re'is, the map had been assembled from a set of 20 maps drawn in the time of Alexander the Great.
read more: Piri Re'is map
A very interesting index explaining the Piri Re'is map
[From "The Oldest Map of America," by Professor Dr. Afet Inan. Ankara, 1954, pp. 28-34.]
Surviving fragment of the Piri Reis map showing Central and South America shores. In his notes appended to it is written "the map of the western lands drawn by Columbus".
http://en.wikipedia.org/wiki/Piri_Reis_map
"The Piri Re'is Map is only one of several anomalous maps drawn in the 15th Century and earlier which appear to represent better information about the shape of the continents than should have been known at the time. Furthermore, this information appears to have been obtained at some distant time in the past."
http://www.sacred-texts.com/Piri-Reis/The Piri Re'is Map.htm
reproduction ©and more info on: WIKIPEDIA
---
June 17th 2015 Sailing to Falmouth, UK
PICO Island (Azores)
We´re on our way sailing again, this time to Falmouth (UK), which will take us approx. 10 days
---
June 15th 2015 Whales & Whaling on PICO Island, Azores (whales 7/7)
There are several modern, state of the art and well-designed musea on whales and whaling with very interesting content on Pico Island.
First of all there is the Museu de Cachelotes e Lulas of Malcolm Clarke in Madalena. Professor Clarke is a world expert on sperm whales and giant squid.
Then there is the Museu dos Baleeiros
and the old factory of SIBIL in Lajes do Pico. www.municipio-lajes-do-pico.pt
---
Sunken Atlantis Pyramid´ Discovered off Azores Coast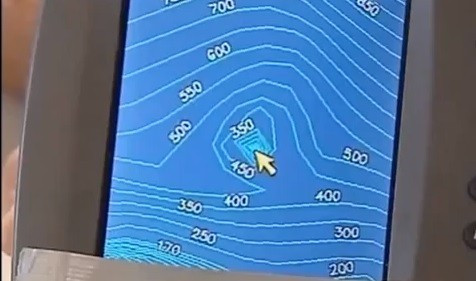 A huge pyramid had been discovered off the Azores islands by Portuguese amateur sailor Diocletian Silva. The 60m-tall structure was found underwater between the islands of Sao Miguel and Terceira. Its base measures 8,000 sq m – bigger than a football field – and Silva believes it was man-made. He says his find may be a remnant of the legendary lost world of Atlantis, which sank into the ocean after a failed attempt to invade Athens. Silva found the pyramid around five months ago while fishing on his yacht in the area. He discovered the structure through bathymetric navigation and its tip is submerged around 40ft.
Read more…©: www.ibtimes.co.uk.
---
June 14th 2015 Porto Pim Whale Factory (Fábrica do Baleia) (whales 6/7)
The factory in Horta on Faial, closed in 1973 and during its 30 years of operation it processed 1940 sperm whales, producing 44,000 drums of oil.
Whaling Heritage Faial
---
Scrimshaw (whales 5/7)
"An art born of loneliness onboard 19th century whaling ships: engraving on whale teeth taken by Azorean hand-held harpoons. In Horta (Faial – Azores) Dutch artist John van Opstal still creates his engravings on whale teeth."
---
Roger Payne: Songs of Humpback Whales (whales 4/7)
(…) Roger Payne focused his research on whales where he together with researcher Scott McVay in 1967 were the first to discover the complex sonic arrangements performed by the male humpback whales during the breeding season.
Payne describes the whale songs as "exuberant, uninterrupted rivers of sound" with long repeated "themes", each song lasting up to 30 minutes and sung by an entire group of male humpbacks at once. The songs would be varied slightly between each breeding season, with a few new phrases added on and a few others dropped.
©: source: WIKIPEDIA
---
North Atlantic Ocean
©: 2015 Robert Schilder
All is quiet on ocean´s front, but for how long …
---
June 3rd 2015 Dolphins under way
A common sight when we were on our way, like these dolphins, from BERMUDA to the AZORES. They like to play in front of the bow of the GEMINI.
©: 2015 Robert Schilder
---
Slavery in numbers (slavery 2/3)
I remember this stamp from when I was a boy at boarding-school. The image is so strong, probably at that time for other reasons than now, that it always stayed with me.
Regarding the subject: the real horror is in the fact that nothing has changed. People are still and even more than before, exploited by other humans for labour, sex or as commodoty.
Read more:
---
MAY 20th 2015 "Portuguese Man-of-War"
All along the way from BERMUDA to the AZORES we encounter this remarkable creature: Cnidaria Hydrozoa
"The Portuguese man-of-war is very bizarre. It has a large gas-filled bladder, tinged with blue and pink, which can be 30 cm long. Dangling in the water, below this bladder, are many tentacles. It is related to the jellyfish, but quite distinct. It is not a single animal, but a close-knit colony of four different types of individual polyps, or zooids.
The Portuguese man-of-war has developed an interesting relationship with the shepherd fish, the clown fish, and the yellow jack, species which are rarely found elsewhere. The fish accompany the colony on its travels around the high seas.
The name Portuguese man-of-war comes from the likeness of the gas bladder of the coloy to the sail of the old Portuguese fighting ships."
"Extraodinary Animals" PIPER
©: photographer: unknown?
---
TUESDAY May 19th 2015 "WHY would you go to BERMUDA?"
bus passengers on the bus from Hamilton to Saint George photograph ©: Robert Schilder
WHY would you go to Bermuda?
An archipelago, discovered in 1503 by a Spanish explorer, Juan de BERMUDEZ, who made no attempt to land because of the treacherous surrounding reef. In 1609, it was claimed for the English Crown by Admiral Sir George Somers, after he was shipwrecked in the 'Sea Venture'. Bermuda is now a British Overseas Dependant Territory with significant autonomy.
If the islands were not situated between the US (650 miles) and the Azores (nearly 1800 miles), they would have been forgotten.
Bermuda is a tax-free paradise with sandy beaches, yes, that's right: no income tax and no VAT. But a hefty import-tax as well as on land and property.
There seem to be an abundance of resorts and golfcourses but most of all boats. Of course, 70.000 people who live on 23 square miles of islands, have boats. But I have never seen so many boats in my entire life.
The islands form a fish-hook shape together and there are 7 main and 100's of smaller ones.
The houses look spic & span, well-kept and preserved; build from limestone and in pastel colors with bright white roofs and special drains to catch the rainwater. People really like the look of fresh paint! The houses have names instead of house numbers, although I found that difficult to verify. Up the hills you can see the big estates who have their houses photographed for DOMUS and Architecture. And they may even have a boat-house, (nothing speaks more to my imagination than a boat-house!)
Bermuda is aimed at tourists. O, excuse me: 'visitors' I should say and all come from far away places. There are visitors from enormous cruise ships from the US and from Europe. And of course there are the 'yachties', sea-sailing with no other choice than to bay where available.
Big cruise ships moor at the DockYard near Hamilton, the capital. To make such a cruise gives the impression that you are rich, but now it seems to be more for the 'Pyjama-people' who have saved for the self-service buffets and organized trips on the stopovers. They look generally overweight and blend in well with the locals with their shorts and sneakers.
Yachties are never overweight, also wear shorts; they may walk funny because their main focus is working with their hands. They are generally well-off (else you couldn't afford such a boat). Unlike the locals, they don't have to carry their drink in a paper bag because they cán afford the 10 dollars for a beer on a terrasse. The locals, who like to tell a joke LOUD, see all this with weary eyes.
Most men wear Bermuda-trousers and knee-socks, sometimes in pretty weird color combinations. There is re-enactment in a Disney-like fashion which tells more about the here and now then the past history.
All, visitors more then locals, are more interested in their smartphones and tablets than in the scenery and flock near the loos and free access-points. The many snapshots they take are only about themselves.
Shops don't appear to be very fashion conscious, but who cares? And the world news is easily replaced by local tit-tat. The supermarket, here in Saint Georges where we are moored in the harbor, is well-stocked but prices are without exception twice as in Europe. Staff is very friendly everywhere.
Even the bus system works, with passengers who remain seated as requested untill to a full stand still.
But yes, the islands are very beautiful and distinct.
Bermuda fun-facts www.dockyardtimes.com
shipwreck islands: Sunken clues to Bermuda´s past.
"The pyjama people are boring me to pieces
Feel like I am wasting my time
They all got flannel up 'n down 'em
A little trap-door back aroun' 'em
An' some cozy little footies on their mind".
lyrics: Frank Zappa ´Po-Jamma People´
---
May 17th 2015 National Museum of Bermuda
Bermuda Sloops – Elizabeth & Mary and Elizabeth – off St. David´s Head, c. 1747, by Deryck Foster, 1983. Bank of Bermuda Foundation
And now your daily pewter spoon has turned into a museum item.
I think the bends in the handles are made intentionally, they don´t look very convenient, those handles. Strange to think who has been eating what with these and under what circumstances.
---
HORSE LATITUDE
30 degrees on both sides of the Equator you are more likely to find areas without wind. So in the days when sailingships had no other way of propulsion, be it an engine or by rowing, they would get into trouble.There would be really no other solution than to wait it out, which could take days or even weeks. Drinking water aboard would get very scarse. Some of these ships carried horses. Horses for warfare or colonisation, like in Columbus´s fleet. It is said that horses would be thrown overboard, because there was no more drinking water for them. Hence the name: Horse Latitudes
How sad is that? ..
---
WADI AL-HITAN (whales 2/5)
Wadi Al-Hitan, Whale Valley, in the Western Desert of Egypt, contains invaluable fossil remains of the earliest, and now extinct, suborder of whales, Archaeoceti. These fossils represent one of the major stories of evolution: the emergence of the whale as an ocean-going mammal from a previous life as a land-based animal. This is the most important site in the world for the demonstration of this stage of evolution. It portrays vividly the form and life of these whales during their transition. The number, concentration and quality of such fossils here is unique, as is their accessibility and setting in an attractive and protected landscape. The fossils of Al-Hitan show the youngest archaeocetes, in the last stages of losing their hind limbs. Other fossil material in the site makes it possible to reconstruct the surrounding environmental and ecological conditions of the time.
©: UNESCO World Heritage Centre, Whale-Valley.pdf
---
To catch a whale … (whales 1/5)
There you are, up in your crows´s nest, feeling miserable and very, very cold.
And than, all of a sudden: YES! There they are!
You shout to your friends below. They have to lower a boat (weather permitting) and ROW towards the whales. When you are lucky they are not miles away by now.
The guy in the front of the boat has a harpoon with rope attached to it. Now he has to throw it far enough and hard enough so it sticks in the whale, who won´t be pleased and will give you a very hard and sad time before it dies.
Than, it has only just started, hasn´t it?
You will have to get this enormous animal onto the ice somewhere or into your boat (?) cut it to pieces and boil it, for ´train-oil´ or margarine?.
You must be joking!
Picture on the left is a famous gravure by Gustave Doré: "the Ancient Mariner". ©: WikiMedia Commons
The picture on the right is from the collection of the New Bedford Whaling Museum, attributed to the Dutch painter Adam Silo: "Arctic Whaling Scene" info#48
---
LIFE ABOARD
What were they doing all day, when the weather was calm I mean?
Practising combat, fancying their ridiculous uniforms? Walking the horses around the ship (longest ship of Columbus fleet was only 24 meters!)
Bragging in the evening about their sex-life, gambling the wages they hoped to receive.
Or were there games or challenges?
©:
---
THEODORE de BRY (colombe 2/3)
The Bry senior was a Hugenote. He lost everything he had because of the Spaniards and was forced in exile. The only thing he still had was his craftmanship.
Theodor de Bry, his sons and successor mixed features of different tribes of Amerindians, even of countries to make their illustrations.
But their stories about cannabalism came from an eyewitness.
Everything they published was made from what they had heard, or, at best, it was from woodcuts from older books.
Again, as with Columbus, indigenous people were regarded as sub-humans.
So their opinion was coloured by their religion: against the Spaniards and with no respect towards the Amerindians.
©: "Icon and Conquest: Structural Analysis of the Illustrations of de Bry´s Great Voyages" Bernadette Bucher ISBN 0-226-07832-9 Univ. of Chicago Press
---
J.M.W. Turner -the SLAVE SHIP (slavery 1/3)
J.M.W. TURNER was inspired to paint "The Slave Ship" in 1840 after reading "The History and Abolition of the Slave Trade" by Thomas Clarkson. In 1781, the captain of the slave ship Zong * (read here) had ordered 133 slaves to be thrown overboard so that insurance payments could be collected. This event probably inspired Turner to create his landscape and to choose to coincide its exhibition with a meeting of the British Anti-Slavery Society. Although slavery had been outlawed in the British Empire since 1833, Turner and many other abolitionists believed that slavery should be outlawed around the world. Turner thus exhibited his painting during the anti-slavery conference, intending for Prince Albert, who was speaking at the event, to see it and be moved to increase British anti-slavery efforts.[citation needed] Placed next to the painting were lines from Turner's own untitled poem, written in 1812:
"Aloft all hands, strike the top-masts and belay;
Yon angry setting sun and fierce-edged clouds
Declare the Typhon´s coming.
Before it sweeps your decks, throw overboard
The dead and dying – ne´er heed their chains
Hope, Hope, fallacious Hope!
Where is thy market now?"
see a large image at Boston museum of Fine Arts
©:Wikipedia and Wikimedia Commons

* The Zong was originally named Zorg (meaning "Care" in Dutch) by its owners, the Middelburgsche Commercie Compagnie. It operated as a slave ship based in Middelburg, Netherlands, and made a voyage in 1777, delivering slaves to the coast of Surinam, South America (read in detail)
---
facts about COLUMBUS (colombe 3/3)
The man caused an enormous change. Greater than anyone could imagine at that time
Allthough he himself persisted in having found another route to Asia untill he died, he made the world twice as big by discovering the Caraïben. This led to the discovery of two whole new continents.
He did it first of all for money and personal fame.
Slavery was at that time normal. Indigenous people were regarded as sub-humans, heathens, work force, at best curiosities which you could take home to show.
Columbus was immensly cruel, he wasn´t the only one, so was his time.
The discovery of the Americas was the start of the largest genocide the world has ever known.
10 of millions Amerindians perished after that.
"Columbus´s voyage to America began a legacy of European piracy, brutality, slave trading, murder, disease, conquest and ethnocide …"
The American Library Association (1990)
---
May 3rd 2015 Perception
It is all about PERCEPTION.
When we are in a room with people and pass a message on secretly, it is very unlikely that the message remains the same when it reaches the last person.
When Lenin gave his famous speech "Power to the people" to an enormous enraged crowd on a big square back in 1906 it is also very unlikely that those people could even hear what he was saying. The consequences were enormous.
Now, what has that got to do with a portrait of Christopher Columbus?
During his lifetime no portrait was made of the famous seafarer, so no one really knew what he looked like. Now, Columbus is a symbol and his name is given to towns, universities, space exploration and religious organisations. I think when you are only a little objective, you would better think twice. But he certainly was a great explorer and seaman.
What I would like to say is: we make our own truth: we know better, we know what he looked like and we know who and what he was.
How did he look, really?
Paul Martin Lester used modern morphing technology to produce a composite portrait of Christopher Columbus from several images and paintings. The result is in the portrait on the left.
Quite another portrait, and I my opinion a very interesting one, is the painting by Marie-Madeleine Gérard which is the picture on the right. I have no idea how she did this, but it sure looks like how I see him.
a Portrait of Christophe Colomb (colombe 2/3)
portrait "Christophe Colomb" by Marie-Madeleine Gérard reproduction: Wikipédia – creative commons
paulmartinlester.info/writings/admiral.html
columbus.vanderkrogt.net/texts/portrait.html
www.vanderkrogt.net/statues/columbus_gallery/index.html
www.christopher-columbus.eu/portraits.htm
---
May 2nd 2015 Columbus and the REDISCOVERY of the Americas (colombe 1/3, de bry 2/3)
click the image for a much larger view
In a post below, I told you I would like to come back to THEODORE de BRY, a most remarkable artist in a even more remarkable time!
Please look carefully at the illustration above and take your time! It is about the discovery of America by CHRISTOPHER COLUMBUS.
There is so much to see, it is hard to compare the sixteenth century to ours. What does it all mean and of course, how does it compare to our ways of seeing?
It is said that there are no real portraits of Christopher Columbus during his lifetime (http://paulmartinlester.info/writings/admiral.html) so Theodore de Bry, the artist of this etching, must have used his imagination.
Now for Theodore, this was not quite uncommon, he must have used his imagination to the extreme. He was used to make his drawings from stories travellers told him. Look at his drawings of America and of the Spanish atrocities in the New World www.pinterest.com/WATERartproject/theodore-de-bry/
I mean, look at it, what were those people thinking? How different was it then from now? Tell me!
---
picture of sy-GEMINI in the Pacific Ocean
Here's a little more about ship and crew:
Frans, my brother, a forensic psychologist, has sailed the world with his yacht the GEMINI for the last 12 years, with professional intervals.
I am an artist (photographer) and organiser of cultural events and exhibitions. (www.robertschilder.com)
We are both proud fathers, (I am a granddad of 3!) and share a lot of our interests, for one: The OCEAN
.
The boat is a 46 foot steel KOOPMANS of Dutch origin, she may look rugged but is kept in the best possible state.
I joined them last year on a fantastic voyage across the South Atlantic and again this year back to Europe crossing the North Atlantic Ocean.
We are still in Sint Maarten, due to visiting family, but will leave coming Monday May the 4th.
Heading towards Bermuda, we will probably sail straight to the Azores, in approx. 3 weeks time.
During these weeks, I will work on this project but will not be able to publish anything until reaching there.
---
April 25th 2015 The SIMPSON BAY FISHMARKET
The picture shows patterns in offal of a red snapper, the gills.
looks almost empty. Is there no more fish or are we at the wrong date or time? We feel a little awkward, all of a sudden our colour of skin seems of importance.
We buy a red snapper for US$ 14.00 a kilo. The enormous black woman who reluctantly cleans it, looks angry at us. She literally tears the fish apart without interest and removes the scales with a stick with the sharp edges of bottle caps.
---
April 24th 2015
SPACE and COLOUR are truly universal in both ocean and galaxies and in Art. We may mess up our world but on time it will have little effect.
Left:
Long Salp Chain. Salps belong to a group of undersea animals called tunicates. Tunicates are saclike filter-feeders that live on plankton and organic matter they strain from the water they pump through their bodies. Their more well-known relative is the sea squirt or sea pork -Steven Goodheart
©: goodheartextremescience.wordpress.com/2010/01/27/meet-the-amazing-salp/
Middle:
Leucothea ctenophore… Of all the shallow-water lobate ctenophores, this spectacular species is the largest, reaching lengths of at least 25 cm.
©: Alexander Semenov, http://clione.ru/
Right:
Artist name: ?
---
Caribbean Coral Reefs
Caribbean coral reefs 'could vanish in 20 years', BBC News, 2 July 2014
www.bbc.com/news/science-environment-28113331
From despair to repair: Dramatic decline of Caribbean corals can be reversed 02 July 2014
IUCN, International Union for Conservation of Nature: www.iucn.org/?uNewsID=16056
---
April 22th 2015 The history of Sint Maarten
SINT MAARTEN doesn't remember whether is has been conquered, occupied or discovered. Its history of piracy and slave trade have been washed out by Sun, Sea & Sand and luxurious yachting. For the same money (actually it is US$ and €'s here) you can imagine yourself in Malaga, Saint Jean the Luz or in a resort on the Turkish Coast.
And the 'air' is all about selling jewellery and time share apartments. There is hardly any interest in its own history, the small heritage museum in Philipsburg is struggling.
The French part SAINT MARTIN has more of an own style, may it be a little worn out with blistering paint and low storey buildings,
When it rains, the brown sides of the low sloping hills change to the brightest green you can imagine, but there is no agriculture; they say because the descendants of slaves are fed up with working the land.History of the Caribby Islands (download 245 mb)
This early study of the Caribbean is an English translation of a French work published anonymously in Rotterdam in 1658 under the title Histoire naturelle et morale des iles Antilles de l'Amerique (Natural and moral history of the Antilles). The original author was Charles de Rochefort (1605-83)
---
Across the Sea
'Across the Sea' from an antique american game by Milton Bradley Company 1910
Especially charming color lithograph showcasing the countries of Switzerland, Russia, Japan, Holland, Venice and Egypt. Established by Milton Bradley in Springfield, Massachusetts in 1860, The Milton Bradley Company has become a household name in American games.
©: www.zandkantiques.com
---
GOD the Geometer and a Memory Game
The project includes a 'MEMORY GAME'
. A card game of 24 small cards with an explaining text sheet, of subjects related to 'ocean' or 'sea'. The cards are laid face down on the table and the position of pairs has to be memorized.
One such pair is 'GOD -the geometer (science is divine) and FRACTALS (geometric -scientific- recurring patterns in nature)
God as Architect/ Builder/ Geometer/ Craftsman, The Frontispiece of Bible Moralisée
Description: science, and particularly geometry and astronomy/ astrology, was linked directly to the divine for most medieval scholars. The compass in this 13th century manuscript is a symbol of God´s act of Creation. God has created the universe after geometric and harmonic principles, to seek these principles was therefore to seek and worship God.
Circa 1220-1230, illumination on parchment, 34.4 x 26 cm (13.5 x 10.2 in)
Current location: Austrian National Library
Accession number : Codex Vindobonensis 2554, f.1 verso
Source/Photographer : archiv.onb.ac.at
©: anonymous artist, Public Domain Wikipedia
---
FRACTALS
Lamarck – SEA URCHINS (detail) Jean Baptiste (Pierre Antoine) de Monet, Chevalier de Lamarck [1744-1829], Echinus 136 -Tableau Encyclopédique et Méthodique des Trois Regnes de la Nature, Paris 1791-1798. From the pattern library of WikiMechanics.org. Photograph by D Dunlop.
Sea urchins are sea creatures that live in oceans all over the world. Similar to sea stars, sea urchins have a water vascular system. Their spherical shape is typically small, ranging from about 3 cm to 10 cm in diameter, and their bodies are covered with a spiny shell. The skeleton of a sea urchin is also known as the test. The shells within the test of these creatures are made up of packed, fitted plates which protect them from being damaged. As for the spines outlining their shell, these are movable and help the sea urchin to camouflage or protect itself from predators. Sea urchins can vary greatly in colour. Some of the most frequently seen colours are black, red, brown, purple and light pink. On the bottom side of a sea urchin there are five teeth that these organisms use to ingest algae and break down other foods they consume to survive. These five teeth continually grow throughout the sea urchin´s life. On the outside of their body, they also have hundreds of transparent tubes that emerge which allow them to stick to the bottom of the ocean or to move at a very slow pace. These unusual tubes are called tube feet". Their tube feet are much longer than the spines outlining their shells and they are also used by the sea urchin to trap food and in respiration.
Read more: tolweb.org
©: Public Domain
---
Map EU Overseas Countries & Territories
Here is another map -relevant to the area- which you may find interesting.
Map of the EU – Overseas Countries and Territories (OCT) and Outermost Regions (OMR). This map shows the territorial scope of the Treaties of the EU as specified by Article 52 of the Treaty on European Union and Article 355 of the Treaty on the Functioning of the European Union.
©: The original is from: en.wikipedia.org/wiki/Sint_Maarten#/media/File:EU_OCT_and_OMR_map_en.png
Source: Natural Earth 1:50m (www.naturalearthdata.com) Author: Alexrk2
---
Theodor De Bry – Central America 1594 (de bry 1/3)
The original map is: Occidentalis Americae partis – Central America, Caribbean 1594, which you can view here on Wikimedia;
source: Helmink Antique Maps
© of the coloured image as featured (and can be purchased from) artofamerica.com and bridgemanimages on zazzle.com
More on the remarkable artist Theodore de Bry later …
---
FRIDAY April 17th 2015
Today was the start of the second part of my SAIL-project: the flight of nearly 7000 km from Amsterdam to Sint Maarten (Caribbean) in little more than eight hours
It is a funny idea that we will cover the same stretch in reverse direction, sailing, for the duration of probably 3 months.
KLM map showing busy airtraffic to the small islands in the Caribbean
Today was the start of the second part of my SAIL-project: the flight of nearly 7000 km from Amsterdam to Sint Maarten (Caribbean) in little more than eight hours
It is a funny idea that we will cover the same stretch in reverse direction, sailing, for the duration of probably 3 months.
---
You can follow our sailing adventures (in dutch) on: www.sy-gemini.nl
Fortaleza
the marina of Fortaleza
---
march 17th 2014 -Fernando de Noronha
---
3rd of march 2014 -Saint Helena
---
february 17th 2014, -pictures of the interior of sy-GEMINI
---
March 3rd 2014 -Stargazer
Our mast is circling Orion and next to it is Jupiter. On the horizon is Crux or the Southern Cross. I think the early travelers would have valued an Apple App.
On Frans his iPhone I can follow the stars directly, just by pointing at them.
Tomorrow we will arrive at Saint Helena, 60 more NM to go.
---
March 2nd 2014 -the Union Jack
You can't arrive in St. Helena without the appropriate flag of the United Kingdom. Ships show courtesy flags of the country they are visiting. We couldn't, the rope had slid and got stuck way up. Frans in the mast, problem solved. Just hope we don't have to sing.
---
March 1st 2014 -fishing
We caught another tuna! And it is all with the same gear, isn't that amazing? I will make a little list, adding more while we are on our way. And a big thank you to the fishes!
– yellow tail 2,5 kg.
– maki-maki 2 kg.
– yellow tuna 3 kg.
– white tuna 4 kg.
Armed with just this, we secured our dinners and caught some beautiful fish.
---
Feb. 28th 2014-´She´
"Why is a ship called she?
A ship is called she because there is always a great deal of bustle around her. There is usually a gang of men about. She has a waist and stays. It takes a lot of paint to keep her good looking. It is not the initial expense that breaks you, it is the upkeep. She can be all decked out. It takes an experienced man to handle her correctly and without a man at the helm, she is absolutely uncontrollable. She shows her topsides, hides her bottom and, when coming into port, always heads for the buoys."
via ´Harry´
---
Feb. 27th 2014 -Gennaker
He had it for some time, and now the wind and weather were perfect for Frans to try it out: an enormous 2XL sail for sailing down the wind (wind in your back) with a huge condom to pull over it.
---
Feb. 26th 2014 -sailmail
I confess I am lost without internet. Not only for my project, but e-mail is for me like picking up a pen or telephone, normal.
Now for ships there is sailmail: you can send (short) messages to an e-mail address via radio. You know the same radio you can use to talk to another ship or to port control.
Except on the GEMINI, it didn't work properly at all and really was a pain in the behind to be honest.Trying to get online for hours and than being shutdown at the last moment, I think you get the picture.
So what to do? I contacted the maker, inventor as you like of sailmail Jim Coreman. Now he can see from the transmission -don´t ask me how- what we were doing wrong. And he quickly send us a list full with different settings and suggestions. How is that for a helpdesk?
---
ADAMASTOR
Os Lusíadas, usually translated as The Lusiads, is a Portuguese epic poem by Luís Vaz de Camões.
Written in Homeric fashion, the poem focuses mainly on a fantastical interpretation of the Portuguese voyages of discovery during the 15th and 16th centuries. Os Lusíadas is often regarded as Portugal's national epic, much in the way as Virgil's Aeneid was for the Ancient Romans, as well as Homer's Iliad and Odyssey for the Ancient Greeks. It was first printed in 1572, three years after the author returned from the Indies.
The Adamastor is a vigorous theophany, which describes the following verses: "Chill the flesh and the hairs/ to me and all [the others] only by listening and seeing him".
This is intended to convey pure fear, the imminent threat of annihilation. The evil demigod is preceded by a black cloud, which appears above the heads of the sailors.
all from WIKIPEDIA Cyril Coetzee, T´kama-Adamastor [detail].
Oil on canvas, 1999, 8,64 x 3,26 m. William Cullen Library, University of the Witwatersrand, Johannesburg.
appeared in an extensive article on Camões: Hedley Twidle (2012): First lives, first words: Camões, magical realism and the limits of invention, Scrutiny2: Issues in English Studies in Southern Africa, 17:1, 28-48
dx.doi.org/10.1080/18125441.2012.706030
---
Feb. 24th 2014 -breakfast
This morning we had breakfast with eggs, tomatoes, tuna, a small octopus and flying fish (tastes like sardines) The last fly on deck in the night, also because of the strong wind 25-30 knots. Wind and swell are a little uncomfortable for me. I have to wear a ´don´ when outside, which is a safety-harness with rope and carabiner.
How to find St. Helena?
Here is a picture of a big tanker that I saw in the morning, the ALAN VELIKI (you can see the name and info of that ship on your AIS equipment). It also gives you an idea of the scale of the waves.
But it is the only ship we saw ALL DAY. So you could play loud music, run around naked or poke your nose, no one would be bothered. But you better stay safe out here, because you are not easy to be found either!
So how did the do that, find a small island like St. Helena? The legendary needle-in-the-haystack island in the middle of the South Atlantic Ocean. It is not difficult now, we counted six GPS devices on this small sailing vessel alone. We also have VHF Marifoon), Ais (Automatic Identification System -you get a beep when near other vessels which have the same system) and radar. Then, when emergency rises, there is EPIRB, which sends a signal about our position. Clever, hè?!
But how was it when there were no electronic devices?
Henri the Navigator was the first to start a school to train navigators and collected all knowledge from sailors around the world in his time.
Alistair Buchan wrote an interesting book on how to make your own compass, or how to tell time from the sun or the stars.
---
Feb. 23th 2014 -swell
Towards the end of Saturday the wind had build up to 20 knots. What is that? Force 6? Nice weather to clear your head with a walk on the beach. I managed to make a decent meal for us, but my stomach feels iffy. I am not exactly a dancer in my movements, I try to relax but feel heavy on my feet. I have to get used to the merry-go-round once again after the quiet days at Walvis Bay.
We take turns now, 4 hours up, 4 off. But I have to call Frans when there are any changes at all. No moon, no stars, nothing. Inside I heard my laptop fall because of the fierce swell and Frans saying: "Don't say I didn't warn you!".
Sunday´s catch included a small tuna (well, small 2-2,5 kg) and Frans caught a flying fish on deck, which was quickly photographed for the artjournal and sent back were it came from.
---
Feb. 22th 2014 -en route to Saint Helena
This morning we left Walvis Bay heading for Saint Helena, some 1250 nm away, 11 days sailing.
Seals were fighting for the best place on the little cruiser next to us and on our way out we passed some pretty worn out trawlers, makes you think what story lies behind that.
The first hours at sea were with a lot of swell, ´deining´ we call it in Dutch which is the same word for social unrest.
Again there are dolphins and seals. One of them was swimming behind the boat for a minute or so, I was afraid it would get interested in the fishing line there, but luckily it swam away.
---
Feb. 21th 2014 -last day shopping Walvis Bay
We went to Customs and Emigration first to clear out (which is only possible on the same day that you leave, but we want to go very early Saturday) and went for final shopping after that.
I think we have food and booze for a family of six for the next month, but you know, you better be prepared and the next two destinations will be more expensive than Namibia.
We filled the water tanks with 700 liters, apart from bottled water which we use for drinking. Topped up the diesel to 700 liters enough for a distance of 1400 – 1500 nm and bought gasoline for the generator.
Most of the groceries are stored in airtight barrels and we have fresh vegetables and meat for the coming week.
Hope to catch some fish though.
We take our time leaving, almost reluctant to go. We had a very relaxed time, there was a lot see and we felt safe. We met quite a few people: Colin the diamond diver, Astrid the waitress, Peter the taxi-driver or the beautie at the post office, all were very friendly.
---
Feb. 20th 2014 -mounting the windpilot
Frans has ordered a new rudder blade for the windpilot in Germany. This was send quickly by Namibian Airways to Windhoek and from there in a connecting flight to the smaller airport of Walvis Bay. But to get it through customs is quite a different piece of cake. Officials are mumbling incomprehensibel terms in the telephone and Frans is shouting back to make himself understood. And then it has to be mounted from the dinghy to the boat.
But this really was a perfect day for mounting the wind-pilot. There was almost no wind and the water was calm. It is a job for two you know and you don't like to see the thing vanishing in the deep! We were quite pleased with ourselves and had dinner in the yacht club afterwards.
www.windpilot.com
---
Feb. 19th 2014-Dinghy repair
Our dighy needed repair: the o-ring of the propeller was worn out so we needed a new one. Who to call?? Charles and Tuly of course, we never had a quicker and better service: same day and with a smile. What more can we want?
SKELETON COAST MARINE SERVICES www.skeletoncoastyamaha.com.na Charles´s phone number: 081 8528260
---
Feb. 18th 2014-Bird shit
Every morning cruisers and catamarans leave Walvis Bay harbor, packed with tourists. They go seal-watching near the lighthouse across the bay. On the boats are also seals and pelicans, because they know they get fed as the seagulls and other birds who fly behind the boats as in a trail.
There is a special place for the pelicans on the poles of the pier and of course when we arrive with our dinghy, we have to pass them … .. . He looks innocent, but he knows he is guilty!
---
Feb. 17th 2014-shopping
When we go shopping here, it is always: "Are you twins, are you twins?"
No we are not twins, but we look a bit like Janssen & Janssens (Thomson and Thompson) from Rin Tin Tin.
---
Feb. 16th 2014-Swakopmund
Today we went to Swakopmund in a shared taxi, which is fun.
You share the costs between four passengers and the distance of 50 miles is driven fast and with loud music.
We did a bit of sightseeing, had lunch in a seaside restaurant bought a present for the birthday of Jay, my grandson.
This picture below is from the Swakopmund Museum, a museum with a very interesting and large collection.
We were very surprised to see a woman dressed exactly like this in the supermarket.
---
White Lady of the Brandberg
The White Lady is a rock painting, located on a panel, also depicting other art work, on a small rock overhang, deep within Brandberg Mountain. The giant granite monolith located in Damaraland and called ´The Brandberg´ is Namibia´s highest mountain.
The painting has long been an archaeological dilemma, and several different hypotheses have been put forth on its origins, authorship and dating. It is now usually accepted to be a bushmen painting, dating back at least 2000 years ago click for larger view, pictures from Wikicommons
---
Bartolomeu Dias
En route to sail around Africa to India, Bartolomeu Dias arrived at the 8th of decembre 1487 in the natural bay of what is now called Walvis Bay.
He named it ´O Golfo de Santa Maria da Conceicão´, but that name didn´t last and the Portuguese didn´t take any effort to keep it. During this voyage, strong winds forced him to sail over a 1000 kilometers off-course, and thus he sailed around the southernmost tip of Africa. He named the Cape ´the Cape of Storms´ (Cabo das Tormentas), but King John II of Portugal later renamed it ´Cabo de Boa Esperanca´ (Cape of Good Hope).
www.sahistory.org.za/people/bartholomeu-dias

---
Feb. 13th Walvis Bay – Flamingoes
We arrived at Walvis Bay like a breeze. The weather had been fine all day, but hardly any wind.
The harbour is a transit and fishing industry port really, with ugly old trawlers from all over the world and a diesel train going back and forth all day for no apparent reason.
But the yacht club is surrounded by many little restaurants and souvenir shops. We had a seal next to our little dinghy when going ashore and there are flamingos and pelicans right on the small pier.
Immigration and Customs is a long way and it takes a friendly passing car to get there and hassling with a taxi on our return.
The bar of the Walvis Bay Yacht Club is surprisingly german with beer in half litres and Jägermeister to go with it.
---
Feb. 12th 2014-Yellow-tail for dinner
Today we caught our first fish, a beautiful yellow tail. We thanked the fish and found it hard to kill it, but Troy had little problems filling it and making sushi from it …
The rest is in the refrigerator, untill further notice.
It is not that difficult to catch once you know how: We drag a long strong line with a dummy fish, a brightly coloured "lecker-bischen" by the looks of it. The line comes from the back of the boat but is diverted via the left side with a washing pin, which snaps when dinner has arrived.
---
Feb. 11th 2014 -Cool Stuff
In the cockpit, under the dodger -that canopy-like hood to keep you out of spray water and sun- are some really cool digital meters.
From left to right you see first of all the latest contribution, which is a notepad with a detailed map (Navionics), showing our position, course and destination. Second is, very important, a sort of radar system (AIS) which shows the boats around us and at what distance. Sometimes with name, type and destination. Than a meter for wind direction and speed. In the middle is a really advanced Raymarine HybridTouch (E7) with a detailed map, course, speed over ground, range and bearing, GPS position, date and time, total of miles traveled since Frans bought the instrument (7305 NM), compass, and probably more. Than a depthmeter, works fine except when it is deeper than 200 meters like now, it looks dazed and confused. And finally a meter with the speed through the water, so you can see the strenght of the current (difference with groundspeed).
In the boat are several meters showing the same information. Remember on a boat and on a voyage like this, you will need back-ups of most instruments.
Having double instruments doesn´t mean that it all works. Nothing more devastating than seawater and the cupboards are full with cables and stuff which ´might´ be needed in the future, for the skipper himself or for one of the other ´yotties´ he might meet on route.
---
Feb. 10th -passing Lüderitz
We are passing the town of Lüderitz in Namibia.
Just about every view in Lüderitz reveals its German Imperial and Art Nouveau architectural heritage. But the German history of the area goes a lot further …
The Herero and Namaqua Genocide is considered to have been the first genocide of the 20th century. It took place between 1904 and 1907 in German South-West Africa (modern day Namibia), during the Herero Wars.
On 12 January 1904, the Herero people, led by Samuel Maharero, rebelled against German colonial rule. In August, German general Lothar von Trotha defeated the Herero in the Battle of Waterberg and drove them into the desert of Omaheke, where most of them died of thirst. In October, the Nama people also rebelled against the Germans only to suffer a similar fate.
Surviving Herero circa 1907
In total, from 24,000 up to 100,000 Herero and 10,000 Nama died. The genocide was characterised by widespread death from starvation and thirst because the Herero who fled the violence were prevented from leaving the Namib Desert.
In 1985, the United Nations´ Whitaker Report classified the aftermath as an attempt to exterminate the Herero and Nama peoples of South-West Africa and therefore one of the earliest attempts at genocide in the 20th century. The German government recognized and apologised for the events in 2004, but has ruled out financial compensation for the victims´ descendants. (Wikipedia).
From the Oranjemund river up to Lüderitz the coast is called "Sperrgebiet" -Forbidden Coast, because this is where the diamond mines are. The Sperrgebiet boundary is patrolled by some fairly ruthless characters and trespassers will be prosecuted (Lonely Planet publications)
Some people never learn, do they?
Schützgebiet, Namibia, Luederitz
No, thank you, I don´t mind we stay out at sea, we are on our way to Walvis Bay.
The German missionary Hermann Heinrich Kreft found diamonds near Lüderitz in 1855. He threw them away. When asked why, he answered, "What should I do with diamonds? They only bring tragedy to a country".
links:
wikipedia (engels): http://en.wikipedia.org/wiki/Herero_and_Namaqua_Genocide
wikipedia (german): http://de.wikipedia.org/wiki/Aufstand_der_Herero_und_Nama
---
Feb. 9th 2014 -Multi Culti kitchen
Over the last ten years, Frans and his boat have seen quite a few countries, so the supply of food onboard is quite international and multi cultural. You know that for this stretch of his tour (he has nearly been around the world!) it is my job to prepare the meals. For tonight I made a vegetable curry with an old can with guave from Guatamala, basmati rice from Singapore, pumpkin from Simonstown, spices from Thailand and red beans from, well I don´t know really.
Standing at the small sink, I find it a little difficult to pump water with my right foot while I would rather have two feet firmly on the ground to keep my balance…
We are passing the border of South Africa and Namibia in the morning and there is more wind to come at night.
---
Caperounders
It is not certain who exactly the first people were to round Cape of Storms. Was it the Phoenicians in their galleys 1000 BC, the Arabs in 1200 AD, chinese admiral Chengho in 1420 with his large fleet or was it Bartolomue Diaz 1487-1488 in his caravel?
I find it hard to believe the indigenous people in that part of Africa didn't use any boats at all? They never got famous by doing so, that is for sure.
---
Feb. 7th 2014 -Nightwatch
It was not the same for the old seafarers: they didn't see so many lights at night of lighthouses or beacons. No skies which light up because of power consuming cities, brighter than any stellar system. And when you did see a ship, at night, the big question would be is it friend or is it enemy; or was it shoot first and ask questions later? Or were you on a slave trader, with so many half-dying people just below the deck, jammering for their Gods? It would interfere with your own superstition or dogmas imposed by your church. Was there never any feeling of guild? There are sounds at night from everything around you and not only from the wind. Your boat is alive: it creeks and there are sighs and you are much more aware of it because you are on watch. Try it at night, to find your way by the stars, it is not as easy as it sounds. And how many of us do still know the names of signs of the Zodiac and the story or meaning that lies behind them? For most of us it is something from our youth when we still had fantasies and read books about lost kingdoms or great explorers.
---
Feb. 6th 2014 -Cape of Good Hope
Today we saw Cape of Good Hope, Capetown with Tafelberg en Robbeneiland all from a safe distance. Of course I wanted to take some pictures but getting my camera from the front cost me my breakfast ..

This afternoon we saw a school of dolphins with some of them right next to our boat. Not bad for a first day, I would say! The weather is quiet now and we are heading for Walvisbay in Namibia, which will probably take a good week sailing.
---
Feb. 5th 2014 Capetown
We went to Capetown today for customs and emigration, because we will be leaving South Africa tomorrow morning at 5.00 AM. It is about a seventy minutes ride in the metro. In the morning we travelled second class with all the different ethnic (sometimes really beautiful) faces and on the way back first class was filled with teenagers in highschool clothing.

Here is an old, but beautiful, photograph of days long past from Wikipedia: Xhosa students at Zonnebloem college in Cape Town, Cape Colony. From an old Cape Archives photo.
Capetown is a large metropole with all its consequences
---
Feb. 4th 2014 -Boulder´s Bay, Simon´s Town, South Africa
pinhole camera Noach's Arc, Simon's Town, South Africa

click on images for larger view
---
Feb. 3th 2014 -Simon´s Town, Naval base and Assegaai submarine
Simon´s Town (Afrikaans: Simonstad), sometimes spelled Simonstown, is a town near Cape Town, South Africa, which is home to the South African Navy. It is located on the shores of False Bay, on the eastern side of the Cape Peninsula. For more than two centuries it has been an important naval base and harbour (first for the Royal Navy and now the South African Navy). The town is named after Simon van der Stel, an early governor of the Cape Colony.
source: wikipedia
There is an old submarine in the harbour and this afternoon Frans and I went to visit her. It is very interesting to see how much technical equipment and (65?) men are supposed to work in such a cramped space. Imagine you are firing a torpedo at a ship you can only hardly see by sonar and are supposed to hit it as well?
Still, at the Navy museum there is a display of the all the sinking and mishaps that took place at the Cape during wartime.
---
Waves & currents
Here is a little bit more about what we are going to do: Cape of Good Hope is where the Benguela current meets the Agulhas current. So as soon as we have cornered the cape the current is with us. (Can you imagine what the sailers from long ago had to fight!) Even later, when we are sailing for the north of Brasil, the South Equatorial current is with us. Ocean_currents_1943_small When you click the map, you see the full version of it.
---
Feb. 1st 2014 -Arnold
This morning we met Arnold. Arnold has been sailing around Cape of Good Hope hundreds of times. He has made it his business to drop film crews on impossible islands in the South Atlantic like Tristan da Cunha, Inaccessible and Gough Islands. His yacht 'Supreme Lady' is a large 20-year old comfortable sailing ship equipped with all modern navigation and safety equipment, 8 berths in 4 cabins.
Arnold was happy to provide Frans with all the ins- and outs of rounding the cape, for our upcoming trip next week!
www.yachtchartercapetown.co.za, ahalberstadt@telkomsa.net
---
Jan. 31th 2014-Flying Dutchman
Troy, crew member, had to take the train to Cape Town today and had a wave of seawater through the open window of the metrorail. Wind was up to 45 knots (Force 6-7, I believe)
So Cape of Storms (that is how it was called before Cape of Good Hope) is doing justice to its name.
Did you realize that this area was home to the Flying Dutchman?
Here are some really nice pics and the story.
"I had often heard of the superstition of sailors respecting apparitions, but had never given much credit to the report; it seems that some years since a Dutch man of war was lost off the Cape of Good Hope, and every soul on board perished; her consort weathered the gale, and arrived soon after at the Cape" read more
---
Jan. 30th 2014 -False Bay Yacht Club
There is a relaxed atmosphere at the False Bay Yacht Club with excellent coffee and clean showers. But there are repairs to be done on the boat and loads of shopping for the coming weeks.
One mayor repair is the engine battery charging system (diode block), that is for Frans, Troy (Gemini's crew member, will accompany us to Walvis bay in Namibia) and a mechanic from Electronic Galley: Robert seatronix1@yahoo.com) another important problem to be solved is the broken autopilot.
Shopping (I will make a start with that) is in nearby Fish Hoek, a 10 minutes ride with the metro.
Food and groceries should be sustainable, varied, easy to store, but where possible fresh ?!? Furthermore, you can't cook a proper dinner on a sailing-boat fighting against the wind and changing course, that will be clear .. Wind speed is 40 knots now.
---
Jan. 29th 2014 Simon's Town
All went quite well today apart from a cramped flight and what you see directly out of the airport is a highway lined with eight kilometers of squaters dwellings. Here you see me with my ridiculous suitcase, containing all the things which were installed that very afternoon. So, yes, I am getting my suntan, but while doing a little work as well.
---
Jan. 28th 2014-The Hague – Frankfurt – Cape Town
Promised to keep you informed while traveling: First with the Hi-Speed train to Frankfurt, that's fun too. There is this proud meter which shows you 300 km/hr.
Too much kilos with me of course, I am carrying a sun panel for the boat and a lot of other stuff not so easy to get in SA. Well, so far so good. Next is a flight to Cape Town with German Condor Airways.